This is another story on Kingsleys' crossing than the movie of the same name. The story of a journey from Cameroun through Africa to Spain and Denmark and back to Spain and Cameroun again. The author comes from the same town in Cameroun as Kingsley and tells his story on background of private conversations.
by Lopez Njang · Illustration by Jimmy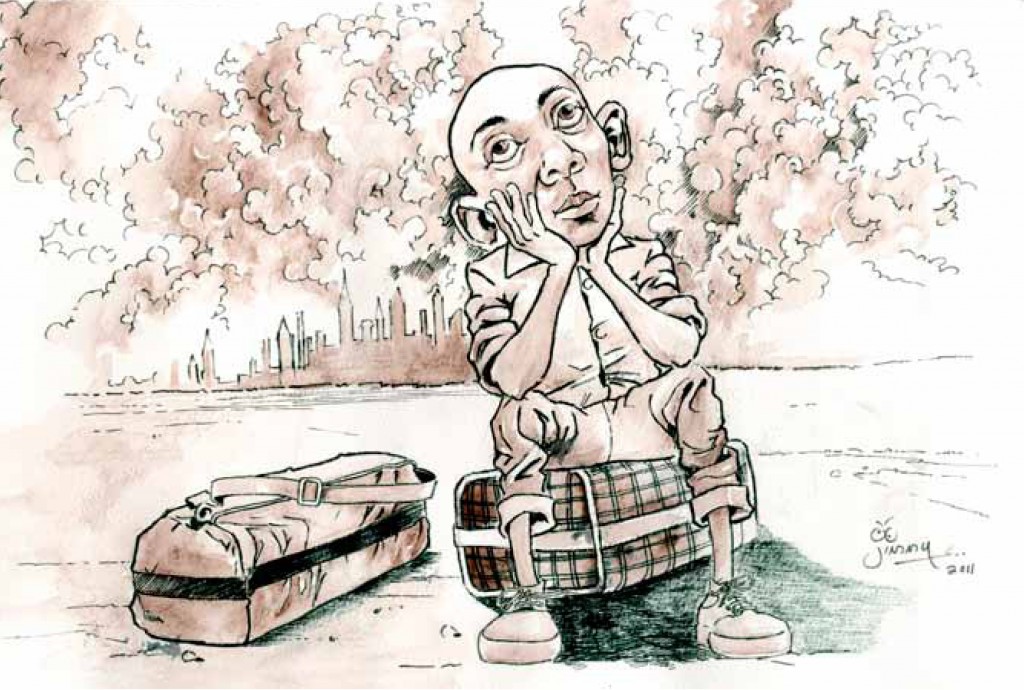 Here's a true-life story about Kingsley, a 23-year-old guy, who went through thorns to make life better for him and his family.
He worked as a lifeguard for about five years and loved the job, but the salary was not enough to make ends meet. All his earnings went towards rent and food. He could not afford electricity, hospital bills, clothing, etc. Kingsley's father worked in a plantation for a meager salary and he had seven siblings all of whom lived in abject poverty.
When he was a student they would help their mother on the farm during holidays. Their harvest was just enough for the family and nothing more. His mother couldn't afford to give them extra pocket money for school which meant that they at the mercy of others.
During special seasons like Christmas and Easter many expats returned home to visit their families. They would parade the streets in their fancy cars, with the stereo at full blast. People called these cars "moving night clubs". It was beautiful to stand by the roadside and witness them pass by. Their girlfriends and families were regarded as semi-gods, and everybody wanted to be identified with them.
In Kingsley's area these "Europeans" were easily recognized by the way they dressed, their type of car, their hairstyles, while those from North America had a distinct way of talking and walking. Not to mention the fact that they all spent money on building new houses for their family members. They brought their families from grass to grace both socially and financially, by spending money on them at nightclubs and hotels.
Kingsley had recently lost three of his sisters to illness. Even after his parents had sold their farms and other properties they used to live on they couldn't afford their medical bills. Inspired by what friends had told him when they came back from overseas, Kingsley decided he'd to travel to Europe in search of a better life.
Since his parents had confidence in him and his love for the family they decided to sell their last property in order to raise money for him to travel abroad. He left Limbe, his hometown with a sum of 1500 Euros. Since getting a visa is very expensive and difficult he had to run the risk of traveling without. And so on May 24th 2004 Kingsley embarked on a journey to an unknown destination in Europe.
He traveled to Maroua a border city north of Cameroun to Chad republic and from hereon to Niger. When he got to Niger people where just walking toward him with propositions for buying passage to Libya, Morocco or Algeria. Everybody talked about crossing the desert, which made Kingsley eager to join in on the adventure. He became friends with a Ghanaian who offered him valuable advice. His friend told him to be cautious of criminals and robbers in the desert and that sometimes drivers would stop in the middle of the desert and demand more money from passengers before they continued. So Kingsley knew he needed to be careful.
With this in mind Kingsley made arrangements with a smuggler to drive him across the desert. However, he had to wait another week before they could leave because the smuggler needed more than 45 passengers to fill his truck. They then embarked on a journey that was supposed to take six days, but it took them 3 days more due to mechanical problems. They were all in pain because the truck was too small to carry that number of people and they also suffered from the heat and dust.
He finally arrived in Algeria where he met a very welcoming fellow who took him to his house and gave him advice on how to reach the Moroccan border. Once in Morocco he got in contact with a Senegalese man who took him to a small room with about thirty people sleeping on the floor. He stayed there for six months while searching for the right person to smuggle him cross the Mediterranean. He cried at night asking, why had he embarked on this journey to Europe to begin? He thought of going back home, but he couldn't now that everything had been sold and everybody was counting on him. He was the last hope for his family. But now he was penniless. Everything had been spent, even the fare for the boat. He therefore needed to sell all his remaining possessions in order to reach his destination.
Kingsley's Senegalese friend took him to the outskirts of another city called Nador. They arrived in a forest where he met about five thousand people all waiting to cross the sea for Europe. The people were all huddled in small groups according to their nationality. He was told not to leave or go anywhere, especially not to the city. He needed to be careful.
Kingsley lived in the forest for eight weeks sleeping under trees before an old wooden boat came. The boat was so old that it could not withstand the waves of the ocean. They sailed for about fifteen minutes before the boat capsized and sank. Kingsley fought to survive, but many people drowned. People where crying that they lost their relatives and friends, but they could not stay long enough to look after the bodies because the feared being caught by the police. So it was too risky for them and they had to run back to the forest. Despite the risks they repaired another old wooden boat with holes in it. But many people on seeing the condition of the boat said they were not going to continue. It was better to return home rather than die in a place where their bodies wouldn't even be found.
They finally set sail with the old boat and succeeded crossing the waves but soon water began entering the badly repaired holes of the boat. Kinglsey started to pray to God to rescue him. He became more and more frightened. Some guys shouted "hey captain turn back turn back!" Luckily, they were rescued by Spanish marines who told them not to move or else their boat might sink. Since the water was filling the boat quickly they took them on board one after the other. The marines then sailed them to Spain. After all of the struggles his dream to come to Europe was finally realized.
Kingsley was taken to the immigration unit where he applied for asylum. His application was denied and he was told that there was no ground for seeking him asylum. He then smuggled himself across Europe and arrived in Denmark where he also applied for asylum. His application was refused by the Danish immigration authorities as well. The Danish immigration authorities had to send him back to Spain.
During this long waiting process Kingsley entered into a relationship with a Danish woman who later gave birth to twins. Regardless that he had started a family in Denmark, Kingsley was denied residence. He was deported back to Spain and Cameroun. Finally he managed to get back to France and get resident permission, but that's another story.