Interview With Mohammad Shoja Tajik, An Afghan Artist
by Rasmus Brink Pedersen • Photo by amorn bunsri
We are sitting in Mohammad Shoja Tajik's room, in a container behind the former psychiatric hospital, which is now home to the asylum center, Avnstrup. This center in the countryside is usually the last stop for a person who has been denied asylum before he is deported.
The tiny room is full of paintings, many are portraits of Queen Margrethe II. Mohammad takes out a painting which in style resembles the work of Portuguese artist Paula Rego, in its exaggerated naturalism. The queen of Denmark is portrayed with a long curved neck that stretches to allow her smiling face to fill the center of the canvas.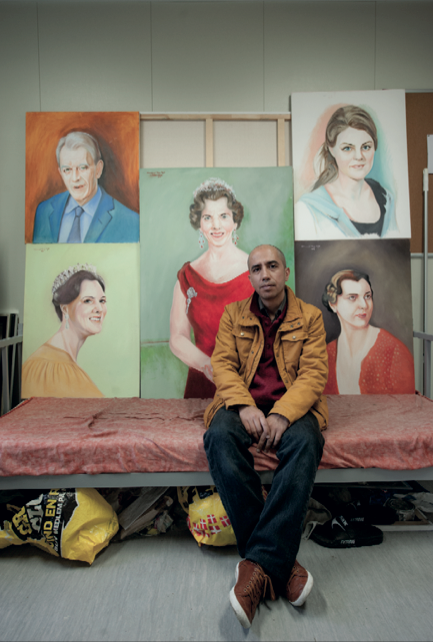 I heard a lot about your paintings, and maybe even more about the letters that you get in return when you send the paintings?
"Yes, I made a big portrait of the queen, and the staff from the camp helped me to set up a meeting."
You went to see the queen?
"No, it takes a long time to get to see the queen. The staff helped me to contact the Royal Palace, and after one month the Lord Chamberlain sent a letter saying: 'You can come to the Royal Palace, and you can give the painting to the queen.' But when I went there the queen was not there. I just gave it to the Lord Chamberlain."
So, you brought the painting…
"Yes, that was a big problem in the bus, on the train and at Nørreport Station. Everybody wanted to see it and they were like, 'Wow, very big painting… you are an artist' – 'yes, I am an artist.'"
You walked with the painting from Nørreport to the palace?
"Yes, because I like the queen. She is also an artist. But I did not get a letter signed by the queen, so I tried to contact them again. But the staff said that the queen is very busy."
Mohammad, tell me a little about yourself?
"I am from Afghanistan, from Nijrab in Kapisa. It is a very small town. There are many mountains; it is a beautiful place. When I was a child my family moved to Iran, after the Russian soldiers invaded Afghanistan in 1979. In Iran I went to primary school, secondary school, and high school. Then, there was a new start, with the government of Karzai, and together with my family I moved back to Afghanistan. My university education took place in Kabul."
What did you study at the university?
"Fine arts, and I also studied to become a teacher. After that I became a teacher at the Ghulam Mohammad Maimanagi Art Center, teaching children to paint. I taught there one year, but after some problems I moved back to Kapisa, and started teaching there."
What were the problems?
"I moved to Kapisa because Taliban was looking for me in Kabul. The problem was that the Taliban says that painting is haram. They went to the school and said, 'Mohammad can't teach tomorrow; he cannot come to the school. Just stay at home. No teaching at the school. And never paint, it is haram and we are going to hurt you if you do.' Then I came to Denmark, one year and eight months ago."
From a folder Mohammad produces an expensive looking envelope with a letter signed by Helle Thorning Schmidt, thanking Mohammad for a group of portraits that she received from him. It seems very unlikely that she should be in personal contact with anyone out here.
Did you meet the prime minister?
"No. I went there together with an interpreter, and her secretary was there to receive the paintings. Three portraits of Helle Thorning Schmidt and one of the queen. When I was there, I showed the secretary my documents and told him about my problems in Afghanistan. He said, 'I am sorry. I will speak to the prime minister about your problems tomorrow.'"
Does she mention that in the letter?

"No, she thanks me for the paintings and thanks the staff from the camp. Nothing about my case. The police have told me that I have to leave Denmark. Sometimes I don't sleep at night, because I think about all the problems I have in Afghanistan."
So, the police know that you are here, and now also the prime minister and the queen?
"Yes, but I am always very sad. My case is closed in Denmark, but I try everyday to get them to open it again. I wait."
In a way your art is about becoming visible; it has moved beyond the canvas. Contacting the politicians and the royals becomes part of your work. And when they send you these letters it is like saying, yes, we know that you exist?
"Yes, but then the prime minister says, 'Mohammad, I am sorry. I can not help you to get a positive answer on your application… You have a great talent… you are a big artist, but I cannot help.' Now I am planning to visit Johanne [Schmidt-Nielsen]. She is a very important person in the parliament of Denmark."
Mohammad takes out two smaller paintings which do not yet carry his distinctive signature: 'Mohammad Shoja Tajik, An Afghan Artist' – portraits of the Danish politicians, Johanne Schmidt-Nielsen and Villy Søvndal.
You are also planning to meet Villy Søvndal. You keep contacting people like them, party leaders and ministers, to give them portraits?
"Yes, I want to meet the minister of foreign affairs and Johanne to speak about the problems with my case. I need the minister and Johanne to help me. I have gotten two negative replies on my applications for asylum."
What are you working on at the moment?
"I am working on many paintings. But this is a small room with two beds. It is no good for painting. I can't paint every day."
Who is the person on the big unfinished portrait over there?
"Stephen Harper, the prime minister of Canada."