BY LILLTREZ, AMARA AND AUGUSTINE • ILLUSTRATIONS BY SIGRID ASTRUP
The authors were participants in Free Home University's two-week residency, Performing the Struggle, at Ammirato Culture House in Lecce, Italy. At the end of the residency they chose to narrate their stories to some of the other participants, Christina Thomopoulos, Claudia Signoretti, and Alessandra Pomarico, to transcribe and share with visAvis. All three stories involve blindness: sometimes inflicted, sometimes mysterious and sometimes willing. They appear in edited form below. The full texts can be read on ArtsEverywhere.
Free Home University is a pedagogical experiment grounded in experiencing life and creativity in common. It was formed in and around the city of Lecce in collaboration with a pool of diverse international artists and thinkers as a response to the need for new ways of sharing and creating knowledge.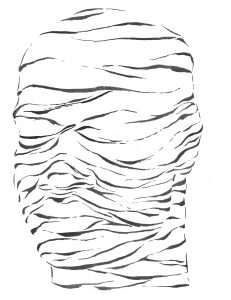 Lilltrez
My name is Lilltrez Art Brocus, which means eyes of the world. I was born in 1991 and I am from Nigeria, Edo State, but I am based in Italy. I am an artist; I love singing, dancing and making videos, and I have been a theatre director.
I lived in Nigeria for 21 years and during that period I was not educated because my parents were very poor. My mum gave birth to eleven children and I am the seventh. I could not just stay uneducated, so I searched for a job, and became a watchman for four years.
On 11 March 2011, at 11:00 a.m., a gas canister exploded in my eyes in a store. I was rushed to the hospital. Since I had no money when I got there, the doctor did not attend to me immediately, so my eyes got worse: like cooked eggs. I couldn't see at all. Later, my family finally found some money and they started treatment on me. I had two operations on both eyes but it wasn't getting better. I was discharged after two months, and still I went to other states, other villages, in search of treatment. I lost all my friends with whom I made music and entertainment. I also lost my girlfriend, who said she could not date a blind person. Even people who did not know me before did not like to come close to me. Finally, I decided to go far away to another place, where even if people would hate me, they would not know who I was or the story of my eyes. I left Nigeria in 2014; I went from Kano to Niger, and from Niger to Sabha, in the Libyan desert. I didn't know where I was going. Sometimes I felt like killing myself. But death does not come easily, and I always knew inside of me that I would not be like that forever. I dreamt of waking up and seeing clearly with my own two eyes. Sometimes I saw myself on a big stage, singing and dancing, in front of people who appreciated my performances.
After a long time in Sabha, I went to Tripoli, where I met friends who took care of me. Sometimes the Libyan Asma Boys, gangs of young armed robbers, would see me and my friends and try to steal money from us. My friends would run away and I would be left alone, unable to see where to go. I wouldn't have much money, so the Asma Boys would beat me and leave. Because of all that, my eyes grew even worse, until one day I met a man who came to pick me up in the night and took me to a place where I met other people. There was a huge sea there, the Mediterranean. They took me inside a boat going to an island called Lampedusa. There were so many people inside. We traveled through the night across the sea, spending eleven hours out there. The next voices I heard were sorrowful and speaking a language I didn't understand. They were Italian rescuers in the sea. I understood one thing: "You are welcome to Italia".
They brought us to the island of Sicily. From Sicily I was transferred to Brindisi and then Lecce, where I live now. A group of volunteers helped me with my documents and took me to the hospital in Lecce to have my eyes examined. I learned that doctors in Bari could give me a corneal transplant. I went there on 15 December 2015 at 11:35 a.m. I was carried to the theatre and the last thing I remember was having a drip inserted and smiling because I was doing it to see again.
Meanwhile, after all these days I had spent in Italy, I still didn't know what it looked like. Sometimes when I was walking in the street I would fall in a hole or hit something. But I had found a new girlfriend, whose name was Rejoice. My mum didn't like her because she was not from Edo State; my mum believes that people from other states are not to be trusted. But I love Rejoice so much and she was everything to me then. She always told me that I would see again. One morning shortly after the operation, they came back and removed the bandages. I could see – more clearly than I had ever imagined after five years of blindness. The doctor was shocked because they had never expected me to see so clearly so soon. Everyone was happy, including me, and I came back to Lecce.
So that is my story but I have to say a big thanks to those who were really helpful to me. Don't forget we all have stories to tell.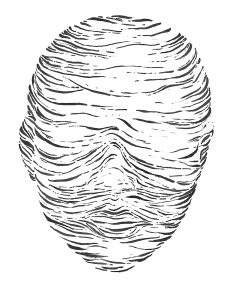 Amara
I arrived in Italy by boat – to the island of Lampedusa on 4 August 2014. After my arrival I was transferred to Vicenza in northern Italy. At first the prefecture sent me to a small village, but after six months I returned to the city, where I received support from a cooperative. I started volunteering in the municipality of Vicenza, and eventually I got a three-month job contract to paint all the benches on the playground. A few days after I finished this assignment, I started to suffer from serious headaches. I suffered a lot for three months. I was not able to work, but I did not go to the doctor. I told the cooperative supporting me that when I had this headache problem I was not able to see anything. They replied, "Since you have been here for one year already, we cannot take you to the doctor. You have to go by yourself." Therefore, I went to the emergency room, where I was told I needed to undergo medical examinations. But my health insurance had expired and I was not allowed to do anything without it. Despite this, I asked the emergency room doctor, "What did you see? What is the problem?"
He said to me, "There are two scars in your eyes which are like two hands in front of your eyes."
I went back home and asked the cooperative how to renew my health insurance. To do that, I had to get a new residence permit. And I had to wait for four months to get my new permit. In all, I spent six months staying at home and waiting to receive documents. I was not able to go to school or do anything. Just wait. Because I did not have a residence permit.
At last, after six months, I had my permit and insurance and could receive medical examinations. I asked if I could have an eye operation to solve my problem. They replied that the scars could not be operated on. I continued taking pain medication. I had to pass the Italian language exam, level A2, but I was not able to do that because of pain in my eyes and head. Finally, the doctors told the truth to my cooperative: there were no solutions, no medication, to heal my eyes. There were only medicines to reduce my headache. When I learned that, I said, "I prefer dying rather than living with this problem."
The doctors tried to help and encourage me; they showed me some examples of people who live with this problem, even more serious cases than mine, and explained what they do. The cooperative helped me face the problem, giving me eyedrops and glasses. I have to wear these glasses always. Thanks to them, the situation has improved and I am getting better now. I can read and write. Two months ago, I arrived in Lecce and I have enrolled in a new Italian language course, level A2C. I am studying and I am preparing for the exam.
Augustine
What really goes on in a Libyan prison? I don't know if the International Organization for Migration and the World Health Organization are ignorant of what really is going on in a Libyan prison.
I was in Libyan prisons. Five, to be precise. While I was in these prisons, the IOM and WHO paid visits. The Libyan police would not allow those of us who would speak up about what is really going on in the prison to do so. Rather, they selected people that would speak about what would benefit the officers. On the days when we were expecting the visits, they would clean the entire prison, the bathrooms, the surroundings, fix up the whole place as if it always looks like that. They would hide the reality: that it's like a place where animals live.
Then the police put fear in the minds of the people that will speak, making it clear that if they said anything bad, as soon as the officials left they would be killed. For this reason, it seems like the IOM and WHO are ignorant of what is going on.
But on this point I have to push back now. I feel that the IOM and WHO are not ignorant of what is going on. In the prisons, they see people with many different bruises and injuries. Many are half-dead. And they see this with their own naked eyes.
All the organizations and the police want deportations. The police get more money if they deport people. That is why the police in Libya arrest people left and right. Every day they count the prisoners. They tell us, "Today we deport Nigerians," "Tomorrow those from Gambia." And they are arresting more people in the streets. When I asked the new people, I would hear the same story: they were coming back from work and the police picked them up. Same story every day. The police even go to houses in which they have heard that black people live, and they throw them in prison. Libya is not safe, and I feel the UN is aware of all this.
I was transferred from Sara Dine prison to White House prison, from White House to Underground Prison, where almost a thousand people were kept. They had not seen the sun for more than a year. Much pain here. It's not easy to recall all this. In the prison, two people I knew died. They gave up. I was talking to them every day. People are dying silently in Libya's prisons for lack of European awareness. People are being taken from one prison to another, one kind of torture into another. With a heavy heart, I recognize that I am lucky not to be among those that are dead now.
Twelve hours we were in the Mediterranean Sea coming here to Italy. I didn't know what was going to happen.
I believe Italy may be the worst place.
The way we are treated…
They stop us on the street…
Even if we speak Italian, they won't listen to us.
When we try to tell them what is going on, about the problems, it only brings bigger problems. They tell us, "You were not forced to come here."
Who can we speak to? Who will listen? Who will do anything?
Only two times have I felt happy in the year I have been in Italy. The first time was when we did a shadow theater workshop. The second was yesterday evening's performance at the end of Free Home University's session. It was really wonderful. All the people were open to understanding. People like that can share your pain and make you understand that all hope is not lost. That we should keep on fighting for the best. Because when there is life there is always hope.