In November 2013, With Nails and Teeth for our Rights began as a workshop in Athens exploring borders and journeys through performance-actions. It continued at the artspace YNKB in Copenhagen in the spring of 2014. Combining approaches from contemporary art, anthropological theatre and architecture, the workshop sought to create a temporary common space in which borders could temporarily disappear and participants could find themselves in fleeting moments of freedom.
By Christina Thomopoulos and Eleni Tzirtzilaki (with excerpts by participants in the workshop) • Photos by Mahmoud Billy Haydar and Christina Thomopoulos • 2015
Participants in the Athens workshop:
Lia Giannakou, Gianos, Kostis, Abdul Nazari, Omar Rose, Rachyd, Sara Santoro, Vassilis Spyropoulos, Alphonso Thiaby, Christina Thomopoulos, Abdullah Tzavadi, Eleni Tzirtzilaki
Participants in the Copenhagen workshop:
Eva La Cour, Stoffer Michael Christensen, Mahmoud Billy Haydar, Markos Karayannos, Rasmus Pedersen, Liv Nimand Duvå, Kirsten Dufour Andersen, Finn Thybo Andersen, Eleni Tzirtzilaki, Christina Thomopoulos
From Athens…
Some travelers know Greece for its archaeological sites and its hospitality, as a tourist destination. Other travelers know Greece as the entrance to Europe with many difficult borders to traverse.
The migrant's journey to Athens has many visible and invisible barriers. Many lose their lives on the way – in shipwrecks in the Aegean Sea on the way from Turkey, or on the border at Evros (northern Greece) where a looming wall has been erected. In Athens, a city in a state of emergency, many have been arrested as a part of Operation Xenios Zeus and taken to detention centers or detained in police stations in tiny rooms for many months. Migrant detention centers are currently holding a large number of sans-papiers indefinitely. Several have died in the centers, some have committed suicide. This is Athens today.
However, many groups and individuals in Greece actively oppose this situation and are involved in struggles for migrant rights, among other things through public actions.
In the fall of 2013 we began the workshop With Nails and Teeth for our Rights. We met weekly at the free and self-organized Embros Theater. Through the workshop, we tried to find expressive ways to process and present issues of migration and displacement. Gradually, we sculpted our collective process into the form of action-performances, which took place at Embros and at Monastiraki Square in central Athens. We focused on two concepts: journeys and borders.
The fact that Embros Theater existed in the way that it did at that time – as an occupied (squatted) self-organized space, a common space, which encouraged different forms of art and life – played a big part in the process. Besides being the space where the workshop happened, it was a place where people from very different backgrounds could meet and collaborate outside of the commercial art context. At a moment of intense police control in the city, in many ways Embros functioned as a space of refuge, a space where people were fighting for their rights.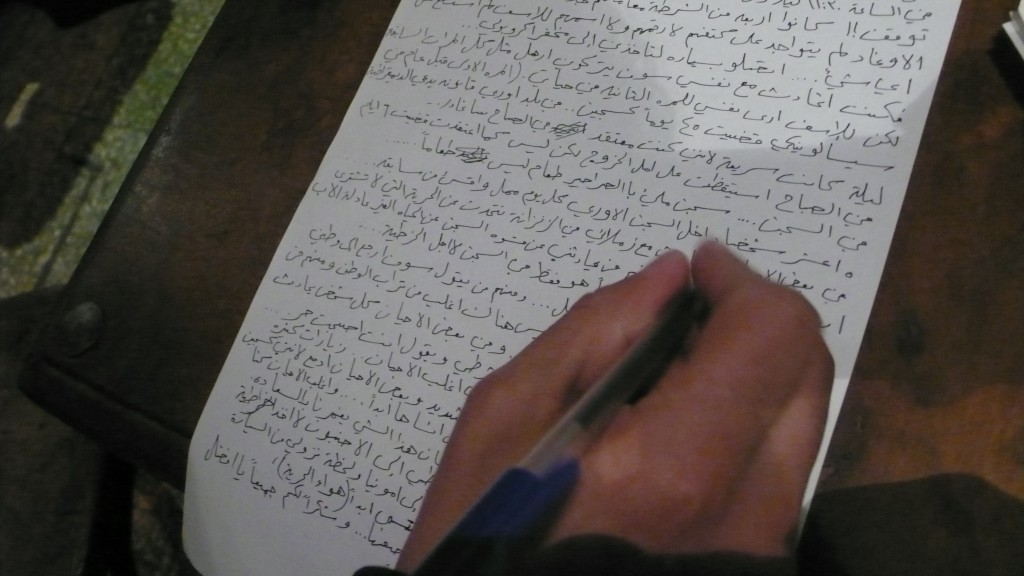 The people participating in the workshop came from different places: Syria, Afghanistan, Algeria, Senegal, Italy, and Greece. We tried to bring together different forms of expression and cultures of feeling, exploring the potential of the voice, the body, and the writing down of personal stories, weaving together anthropological, artistic, and spatial approaches. Poems and songs from different countries complemented our work. We created a space for voices to be heard in different mother tongues: Arabic, Farsi, French, Fulani, Italian, and Greek.
Our starting point was the story of the unrealized journey of the survivors from a shipwreck in Lefkada. On November 20th 2013, twelve people drowned off the shore of Paleros, Lefkada. Fifteen people survived the shipwreck. Four of them told us their story:
We were in a coffee shop in Athens, and a smuggler was there. We went up to him and told him we wanted to leave Greece, and he told us that he and some other smugglers had a boat and we could leave for Italy […]. We were taken away, we didn't know where we were. They took us to some houses, we were treated like animals. They gave us only bread to eat. We stayed there for three days, slept on the ground. There were twenty-two of us. They brought the children on the last day. […] It was a very small boat. One of the smugglers held on to the rope and screamed at us, cursing at us. The boat capsized right at the beginning. We started screaming. It happened because there were too many of us and the boat was too small. Many of us ended up under the boat. […] It was five o' clock in the morning, there was no one to be seen. […] One and a half or two hours later the police and the coastguard showed up. Our fellow travelers had been trying to save themselves for a very long time, they were banging on the hull, we could hear them. The children were covered in petrol, they were all blackened. They couldn't save any more people, they were too late. The voices under the boat had stopped.

[…] We escaped the war. They didn't give us work or papers. Even though we were war refugees. […] Dogs are more important than humans here.
It would not be long before we experienced firsthand the events we discussed during the workshop. One of the participants in the workshop was arrested as part of Operation Xenios Zeus:
It was a sunny day… Beautiful weather. It was Sunday January 19th 2014. A day that unfortunately ended very differently from the beautiful weather. It was 11.30 p.m. when a policeman stopped me at the Monastiraki metro station. "Stop", he said. There were four policemen. They treated me in a very condescending way. They insulted me over and over again. They had no name tags or police badges. I couldn't do anything. I was completely helpless. They put me in a police car and drove me to the Acropolis police station… I was talking to myself. I kept on telling myself, "They will let me go as they have done 19 times before."
Unfortunately, I ended up in jail for the second time in my life. The first time was in Thessaloniki for 45 days. […] Here, in the jail in Athens, cockroaches were running all around, and the food we were given was barely edible. Fifteen people in a jail cell. Sometimes we spoke about the freedom that can't be bought with money. Some talked of the harshness of jail that is so unjust. A father in jail, his wife and child alone, simply because he had no papers.
Some spoke of patience and their hopes of returning to the homeland rather than a life of humiliation… And that there is nothing better, fuller, or richer than home. Some didn't utter a single word. They just listened. Sometimes we would talk to ourselves, hoping that the moment would come when the guard would call us and announce, "You are free to go".
Sometimes, I felt as if I was back home; I felt as if I were in my country, touched by all the people visiting me. Sometimes I felt great pain, I would lie under my sheets in tears…Because I would never be able to repay you for all the love and support you showed me; I will never forget it.
Sometimes our eyes wandered towards the window and we offered the crumbs left over from our food to the pigeons…This filled us with a temporary joy.
After I was released from the prison, the policeman from the immigration office drove me to Omonoia Square and dropped me off. The moment I got out of the car, I breathed the air of freedom…A moment I will never forget. It is impossible for me to describe.
…To Copenhagen
Omar didn't come. His journey ended at the front desk of the Danish embassy in Athens, where the woman sitting at the desk looked strictly at us from behind her glasses. The embassy refused him a travel permit. She wasn't interested in his story or in the resume that he and Christina had made together. Omar made desserts. He had danced with Despina, Panagiotis, Michos. He had participated in Vicky's performance and in our workshop.
Omar wasn't allowed to travel with us to Copenhagen, even though Eva had sent him an official invitation.
As Omar told us, a while back he had paid 3500 euro to travel to the north. He had gone to the airport and was turned back. He was to go by boat to Italy. He was to stay in Rome. Maybe at Valle. After that we'll see.
We are here to tell his story.
For two weeks in May 2014 we collaborated with the YNKB collective, a self-organized artspace in Nørrebro, Copenhagen, to explore stories of migration and asylum in Copenhagen today. Through our research we tried to understand the visible and invisible borders that people face during their journeys and in daily life around the city and its spaces. We tried to feel the routes from Athens to Copenhagen, the "idealized" north, and to connect the realities of displacement here and there. What are the conditions and realities of life after Athens?
Day 1: Deportation
A man on the airplane was most likely not there of his own free will.
I noticed him, an African between two plainclothes policemen at the check-in.
At the gate one of the guards, now the only guard, pointed his finger when he wanted the man to move, sit down and so on.
The African man was completely calm, well dressed in a rapper kind of way, and constantly texting on his phone.
No one seemed to notice the two men.
Day 2: Visiting the Trampoline House
The Trampoline House is a space in Copenhagen attempting to overcome borders. We spoke with many people there who had been through Athens on their journey to Copenhagen. We learned that after Athens, many people continue onto Italy in trains or trucks, often hidden. Some want to cross the Channel to reach London, but when unable, they continue onto Germany and Copenhagen. Others reach Copenhagen by plane, paying a large sum. At each stop the journey has more obstacles. Some people who had left Athens missed their friends and the people they met in Greece.
Bodies dancing together
at the celebration dinner
there is a kind of early shyness
I can see people waiting
but when the next song plays, it is someone's favorite!
timidness breaks!
when we hear the music of our hearts, our shyness breaks
music turns discomfort to joy.
Day 5: Women's meeting at the Trampoline House
This morning was the women's meeting at the Trampoline House. There were only women in the House. In the beginning just three. As time passed, more joined.
Khloud, sweet and approachable, was from Syria. She had made a long journey crossing borders, and now lived in Avnstrup Asylum Camp. Her husband was Palestinian. He died at age 42 in the war. She had travelled from Syria to Jordan, then to Turkey, Istanbul, Izmir, Chios, Athens, Nea Smirni, Syntagma, Omonoia, Venizelos airport, and then to Copenhagen.
When she arrived by boat, she had walked on foot for many hours. She was imprisoned for 15 days in Chios, without food or water.
"Everyone was on top of each other, I was going crazy. Athens was nice. Nice people. Since February now I've been at Avnstrup, an hour away from here. We are 30 women, and many, many men. We women don't meet. I was about to go crazy last week, and so they took me to the hospital.
This is my first time in the Trampoline House. My three children are in Jordan. They are between 9 and 14 years old."
(She shows us photos of them.)
She wants them to come, but she doesn't know if they'll make it.
She said it would be her pleasure if we visited her at Avnstrup.
Each woman cooks alone at the camp. "We have a small garden at the camp. Six months ago there was also a small women's café where we would all meet, but now nothing. No one opens it for us."
Day 8: Going to Avnstrup asylum camp
In order to reach the camp we had to take two different trains and two different buses. The trip took about an hour and a half. The feeling of distance, of being far away, of isolation was in the air. Ironically, endless fields of bright yellow flowers enlivened the landscape. Someone said to us, Yes, the nature is beautiful, but what can I do with this? I just want a normal life like everyone else.
Day 10: The border of language
A communication barrier greets people when they first arrive in Denmark, especially when it comes to "getting your story right" for the interview. One young man we met told us that a translator had made a mistake in his story and when he tried to point out the mistake, the committee didn't believe him. It was the translator's word over his.
What does it mean to understand? To speak the same language? I could speak to you in your language and you might still not understand. Because you don't want to listen. What does it mean to have a mother tongue, when no one wants to hear what you have to say? What does it mean to be translated, when it feels like no one wants to listen? How can we communicate with each other when borders are everywhere? Language borders. Other borders. Maybe I should rehearse the story I should tell, the story I need to tell, in order to be allowed a safe space to let my body rest – for a while. I have so much I want to say to you, but no language to say it in.

Broken Danish: we are foreigners here, foreign in this language. They look strangely at me too, when they hear me speak my mother tongue.
Day 12: Greeks in Copenhagen
Some 'European' commissioner stated it clearly: "The measures aim to make the Greeks poorer, so that they won't buy expensive products and so that they will produce more cheaply, so that what they produce will become competitive."
With this logic, products are the common denominator of the definition of what it is to be 'human'.
For a while it was important for "the Greeks" to be like other people, consumers of what others produce. But now, the position of the producer-consumer has been reconfigured. New contradictions arise: who will buy all the stuff if those who once were consumers abandon this role?
Through our research in Copenhagen, Europe's common stance towards countries and people in precarious situations and 'emergencies' – such as wars, poverty, and perilous journeys – became increasingly clear to us. Some people we met in Copenhagen had been granted asylum and were trying to start a new life there. But what happens to the rest? One person, we were told, committed suicide after receiving a negative answer and a deportation notice.
From research to performance-action
Our initial idea was that the performance-action could be a space for participants of the Trampoline House to express their stories and experiences of borders together. However, this was seen as too risky for them during their application process, so we took a different approach, using our research journals to include parts of stories we were told anonymously. We started by asking: in a situation when you are rendered "voiceless", how can you find a way to be heard, to tell your own story?
As part of the action, we read excerpts of our journals in 'broken Danish': together with Danish friends, we translated our reflections from Greek to Danish, spelling the translation phonetically with the Greek alphabet so that we could pronounce it as 'correctly' as possible. As we did not speak the local language, this became our personal experience of otherness in Denmark. A confrontation of language barriers and (mis)understandings; feelings of the impossibility and absurdity of communication, but also efforts to overcome it through play, humor, and collaboration with our Danish friends. Language and translation itself as a journey. Translation became a way to reach each other, a common ground. A bridge. In this journey, dictionaries become like bricks, and informal translators the artisans of a new architecture of togetherness. In the process of translation, everyone is needed. Someone to write, someone to translate, and someone to listen.
During the performance, some texts were read one by one in each language – Arabic, Danish, English and Greek. In this way we all had to wait our turn to understand, to catch familiar phrases, to hear a language that made sense to the ear. But other times we read all the languages at the same time – Arabic, Greek, Danish, English. Sometimes as a polyphonic melody, other times like an absurd cacophony. Sometimes it would sound like a whole new language, made up of all of the languages together. You didn't know where to look to understand what was happening, and sometimes you closed your eyes and just listened, not feeling forced to understand. The content of the texts we were reading didn't make sense anyway, so what did it matter?
Many languages spoken at the same time. I can't make out what they are saying, they are all speaking at the same time! But it is not about literal understanding, rather about the act of giving space to listen to a language that is not your own. It is about letting "others" be heard. Breaking a hierarchy of what languages we can and should listen to. Giving each other the right to be heard. You are not a foreign language. Perhaps if our languages can sit side by side together, so can we.
Afterwards, when the other languages fade, when you listen to one language alone it is like we are naked. Exposed. We realize the other languages feel like a blanket that keeps us warm and protected. Not so exposed.
Broken Danish: I wonder if they could tell my accent was so bad. I wonder if they could tell I didn't know what each word I was saying meant. It was a test to see, can I 'pass' as Danish enough? As European enough? Enough of a Western citizen?
The movements we embodied in the performance explored feelings of confinement in space, of exclusion and entrapment. How can we use everyday spaces and objects around us to visualize what is happening around us? To show that events that are presented by mass media are not distant news bites, not numbers, but experiences of actual people? How can spaces around us act as a way of understanding the experiences of others? Experiences of others that are not unconnected to our own. Somehow, a stool is no longer for sitting. A wall is no longer for keeping out the cold. We push up against the walls, use tables as protection, use a doorknob to pull ourselves up from the ground. How can the body find new paths? Or create them? Where is "the way out" of this global entrapment? Our bodies are the targets – of violence, displacement, control, exclusion, and exploitation – but also the means of growing together, finding strength, standing up, and changing.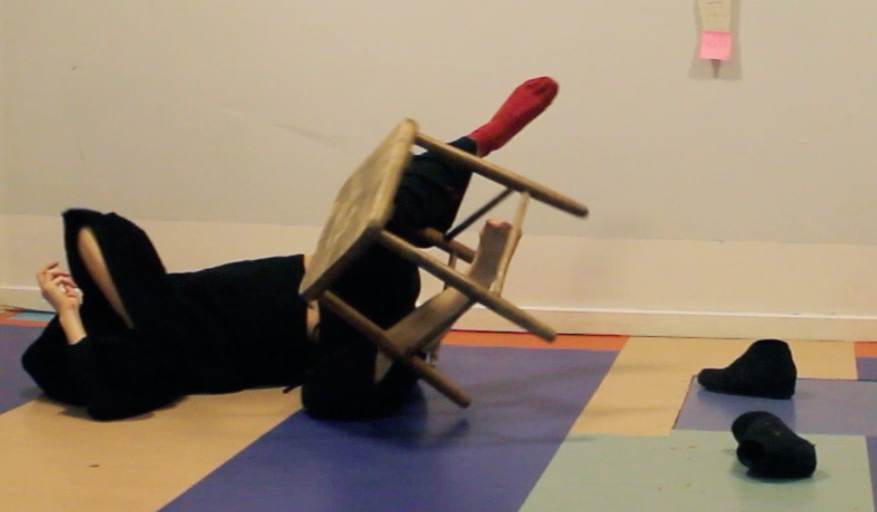 Perhaps a performance can be a way of making visible what others have tried to keep invisible. We cannot change a situation we cannot see. Therefore, we try to visualize what some prefer to look away from.
Perhaps a performance can be a way to create a new experience of being together. A bridge in a time of borders.
It was important for us to make different stories of journeys heard together in different languages, as well as to visualize that the global map today is being painted with blood, as the EU is turning itself into a fortress. At YNKB we wondered if performances can bring people together, create familiarity and a different humane situation in this xenophobic moment in history. Part of the action was also the collective food we made, tastes from Greece and Denmark we had prepared, which became the trigger for a common discussion about what is happening now in Europe. Our friends from Denmark told us this was quite unusual.
The absence of one member of With Nails and Teeth in Athens, Omar, who was to participate in the performance, was palpable.
Through the workshop With Nails and Teeth, we confront these realities and express our opposition to Fortress Europe, to a Mediterranean sea full of shipwrecks and death, to a city full of fear and a map of global war. Through our actions, we propose a temporary co-habitation in the city. We attempt to reclaim public space and a sustainable life.
Our actions, which we wish to continue, are for us small gestures, a journey creating small sources of light in the darkness.
We would like to thank Eva La Cour, Stoffer Michael Christensen, Mahmoud 'Billy' Haydar, Markos Karayannos, Rasmus Pedersen, Liv Nimand Duvå, Kirsten Dufour Andersen, and Finn Thybo Andersen who participated in the action-performance and installation. We would also like to thank Tine Tvergaard and everyone from YNKB for inviting us and making our work possible, and finally the groups and participants from Crisis Mirror, Trampoline House, and visAvis for sharing their stories, thoughts, and work with us. We hope to continue the collaboration and joint actions in the future. Finally we would also like to thank Lia Giannakou, Gianos, Kostis, Abdul Nazari, Omar Rose, Rachyd, Sara Santoro, Vassilis Spyropoulos, Alphonso Thiaby and Panagiotis Andronikidis for their collaboration in Athens.
Postscript
The situation in Greece has changed tremendously since the workshop took place in 2014. Thousands of refugees pass through Athens daily – staying as briefly as possible – as they try to reach northern Europe as soon as they can. More and more borders are closing, and thousands have drowned in the Aegean due to lack of safe passage to Europe. Thousands are being forced back to Athens from Idomeni. Countless people – women and men – are being imprisoned in detention centers and threatened with deportation. Meanwhile, people are being exploited at every step of their journey to and through Europe.
Under these extreme circumstances, artists need to forge new tools. The workshop With Nails and Teeth has tried to contribute to the exploration of ways in which art and performance can play a role – albeit a small one – in crossing borders.
www.menychiakaimedontia.wordpress.com