Somalia is heavily afflicted by the group Al-Shabab whichbrainwashes children and engages in terror. The countryis one of the most unsafe places in the world from wheremillions of people have been driven into exile.
by Omar · Illustration: Mathias Malling Mortensen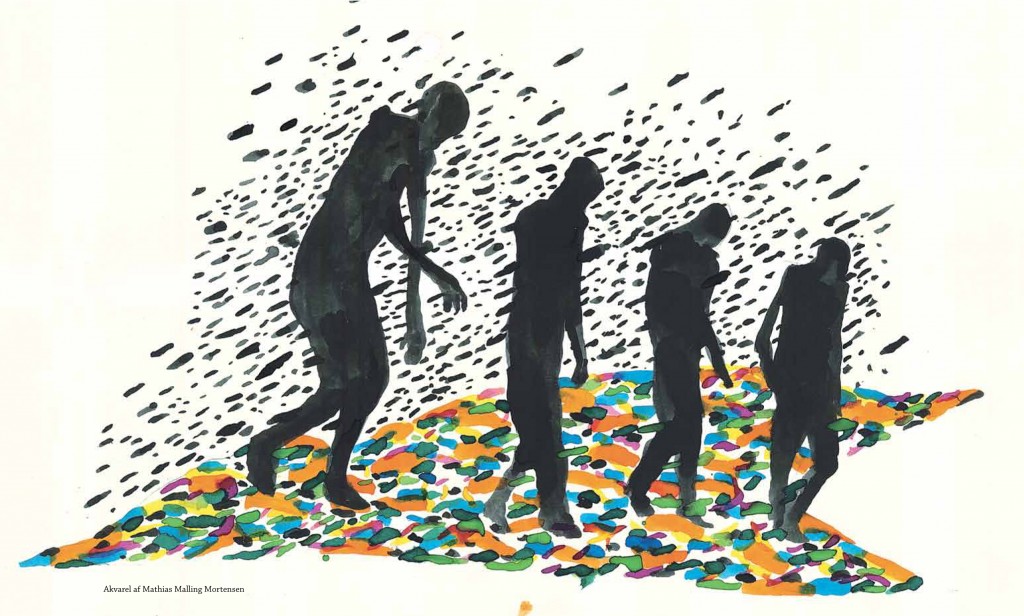 My name is Omar. I'm a Somalian refugee in Denmark. I fled from my country to save my life. After the collapse of the central government headed by president Siad Barre in 1991, Somalia has passed many political stages. It has been hit by natural disasters like drought and hunger and ravaged by endless civil wars. In Somalia, there is a group called Al-Shabab which means 'young people'. This group fights the federal government and The African Union peacekeepers. They brainwash children who don't have any alternatives due to their low social status. Young people in Mogadishu don't have the possibilities to go to school or live a normal life and are forced to fight with the group as soldiers. The group wants you to take a gun and die without reason. If you refuse, they will attack and kill you.
Let's glance at one of the worst and most shocking tragedies which happened in Shamu Hotel in Mogadishu on Thursday morning the 3rd of December 2009, where out going graduates were supposed to be given the testimonial of their Master Degree in Medicine after six years of studying in the 'war-town' Mogadishu.
The hall was highly well decorated,and the graduation ceremony was prepared in a beautiful manner. Government ministers, doctors, professors, journalists, students and their parents and other honourable guests were invited to the long awaited celebration.
A heavy explosion shook the place where the graduation ceremony was going ahead and killed more than 25 people including the students who had studied long time to contribute to their community.
The responsibility of this attack was claimed by Al-Shabab insurgents and they pointed out that the students were supposed to fight instead of studying.
Somalia is one of the most unsafe places in the world. There is a reason why people from Somalia risk their lives and try to escape and find a place where they can get a better and peaceful life. In the last three years, 1.5 million people were displaced from their homes and many others killed according to UN and local human rights groups.